Knights Brigade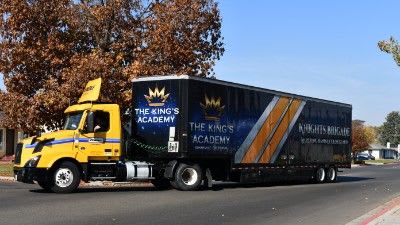 Knights Brigade Registration
Why Join Knights Brigade?
Read this letter from Ryan Bortz, Director of TKA Bands!
KB Places 1st in WBA Class A!
Winter Percussion Final Show 2021
Knights Brigade Wins Class 1A at Dublin High School Irish Guard Invitational
In their first competition of the year, Knights Brigade Marching Band and Color Guard won Class 1A at the Dublin High School Irish Guard Invitational on October 9 and received Caption Awards for Auxiliary, Effect, Percussion, Music, and Visuals. Knights Brigade had the 3rd highest score of the day, beating all 2A, 3A, and 4A bands, and two 5A bands.
The students are thrilled to be performing for a live audience once again. You can see them perform at the Gilroy Garlic City Classic on Saturday, October 16, at Gilroy High School. Performance time is 3:14 p.m.
The Knights Brigade is under the direction of Ryan Bortz, and their drum major is Natalee Philbrick. Color guard captain is Ava Taylor, drum captain is Julian Hoot, and pit captain is Kenton Shieh.
Knights Brigade Marching Band and Color Guard's 2021 field show is titled "Shattered" which is explained below:
Once in a while, an event comes along that shakes us to our core. These life-changing events can isolate us on islands of bewilderment, anxiety, and despair while we come to terms with their full impact. In the end, our only remedy is to pick up the shattered pieces of our lives and band together to face them head on. With 2020 in the rearview mirror, we are learning to piece together our lives in a new and beautiful way.
The King's Academy Knights Brigade Marching Band & Color Guard participates in Western Band Association (WBA) competitions throughout California.
Knights Brigade has been a finalist in the statewide WBA Grand Championship every year they have been held during the last 10 years. Awarded Class A State Champions three times, in addition to being in the top three Class A Bands in California three more times, the unit also has numerous recognitions for Best Visual, Best Ensemble, Best Music, Best Auxiliary, and Best Percussion.
Congratulations Knights Brigade!
End-of-Season Winter Guard Video
Enjoy this end-of-season video performed by the Winter Guard (3:43)!
Enjoy Winter Percussions' Show "Isomorphic Algorithms"!
Winter Percussion: Congratulations to the participants of the Winter Percussion program on their successful virtual season. Winter Percussion virtually participated in several Northern California Percussion Alliance shows, adding new elements to the overall production each week. Enjoy the final version of their show Isomorphic Algorithms!